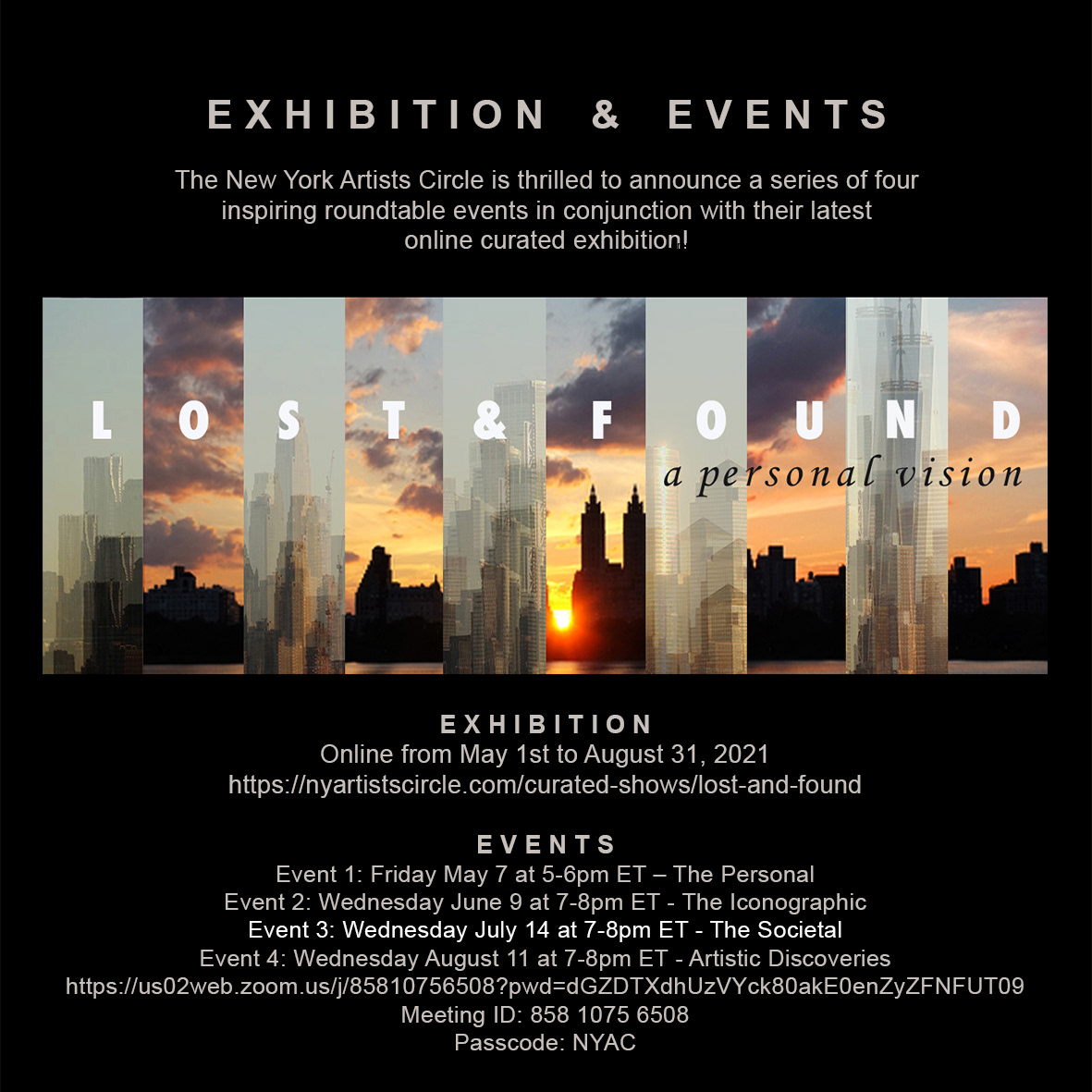 The New York Artists Circle is thrilled to announce a series of four inspiring round-table events in conjunction with their latest online curated exhibition LOST AND FOUND: A PERSONAL VISION.
From May 1st to August 31, 2021.
Event 1: Friday May 7 at 5-6pm ET – The Personal
Event 2: Wednesday June 9 at 7-8pm ET - The Iconographic
Event 3: Wednesday July 14 at 7-8pm ET - The Societal
Event 4: Wednesday August 11 at 7-8pm ET - Artistic Discoveries
Meeting ID: 858 1075 6508
Passcode: NYAC
Looking forward to seeing you at our events!
Please share with anyone who might be interested.

What is Lost? What is Found?
The New York Artists Circle presents the unique visions of 117 selected artists who explore and reveal what is truly important in their lives, as they cope with waves of serial loss as well as surprisingly personal positive change during this Pandemic time. They have joined together to give us a wide-ranging array of personal explorations on the theme of Lost & Found, from the tangible concrete to the sheer existential in our Spring/Summer 2021 online show on NYAC's website.
The
 show 
is divided into four unique sub-themes. Each will focus on a different aspect of what is Lost and Found: The Personal, The Iconographic, The Societal, and Artistic Discoveries. Each offers thought-provoking and inspiring reflections on our shared human experiences in this time of Global crisis.
These artists have portrayed the impact of the Pandemic on their own lives with keen observation and inventive imagery. 
Event Two: The Iconographic
These artists explore multiple interpretations of the Pandemic in objects, metaphors and symbols. They convey anxiety and grief in their art, as well as recovery and new beginnings.
Event Three: The Societal
These artists explore the widening impact of the Pandemic. They address the effects on global communities and societies, from local and individual to the broader issues of health, economics and mental well-being.
Event Four: Artistic Discoveries
For certain artists, the Pandemic has resulted in artistic discoveries and silver lining recoveries. They have found more time to make their art, as well as new subject matter, materials, techniques and perspectives.
Lost and Found Participating Artists
May 7 – Event 1

-

The Personal
June 9 - Event 2 - The Iconographic
July 14 - Event 3 The Societal
A
ug 11 - Event 4
- Artistic Discoveries
Lost and Found Participating Curators:
Lois Bender (Lead Curator), Audrey Anastasi, Marianne Barcellona, Alli Berman, Pamela Casper, Norma Greenwood, Monroe Hodder, Lori Horowitz, Jenna Lash, Ellen Pliskin, Maria Spector, Gail Winbury.
We are the New York Artists Circle (NYAC), a group of 400 professional visual artists who connect to share information, opportunities, skills and resources. Exhibiting and selling artwork are priorities. Since 1996, we have built a collective bank of expertise through monthly meetings, an active listserve, a dynamic social media presence, and our website.
We support our members in their professional growth, fostering groundbreaking ideas, fresh approaches and innovative collaborations. Working together in community helps us to meet the challenges we face in our solo practices, proving that there is strength in numbers! The NYAC grows by invitation from the existing membership twice a year.
We invite you to browse through our searchable registry to find artists for exhibitions, collaborations and other opportunities. Prominent curators have created both online and "brick and mortar" exhibitions by selecting work from our website and many of our artists have received commissions.
Artwork on our site is for sale. Contact artists directly through their individual profiles in our searchable registry
for purchase details, and for any other professional inquiries.
For general inquiries, our administrators can be reached through the Contact Page.